COVID 19 Health and Safety Preparedness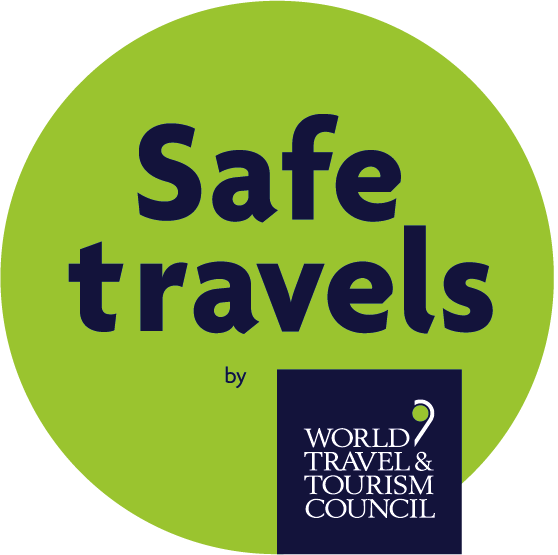 Educational World Tours has implemented new safety measures and has received the World Travel and Tourism Council's Safe Travels stamp, which provides travellers with the assurance that we have adopted health and hygiene global standardised protocols – so you can experience 'Safe Travels'.
Educational World Tours COVID 19 health and safety preparedness
Educational World Tours is dedicated to the well-being, safety, and health of its clients, team, and suppliers. Our policies had always been directed towards the most updated safety measures through constant monitoring of health government advisories, inquiries and feedback from different providers dispersed in and around Canada, the US, and abroad. Even before March 2020, we have always been in contact with our clients to inform them about government health advisories, while recommending them to refer to our travel, safety and security document for general safe travel practices.
As COVID hit us, we enhanced our monitoring, tightened-up our conditions, working in line with the procedures and recommendations from the World Health Organization, doing our best to guarantee a safe and enjoyable educational experience.
When your group hit the road, here are some procedures you expect:
The possibilities of hiring a tour manager for your group, to ensure all the precautions are taken and solve any urgent matters on the spot. Our tour managers have worked with EWT for long time; therefore they are familiar with our procedures and standards.
Hand-sanitizer available whenever possible.
Social distancing measures such as limited occupation in hotel rooms, collective meals, transportation, activities
Splitting large groups into small clusters to better manage distance in museums, parks, restaurants. Whenever necessary, we will avoid booking groups when large crowds are predicted. Additionally we regularly book time slots specific for you group.
We try to incorporate as many outdoor activities as possible to improve safety practices
Choose suppliers with similar high standards in safety protocols, for example, their availability of sanitization stations. Our terms and conditions documents make explicit our continuous pursuit of excellence in service by our suppliers.
Flexibility adjusting tours and itineraries before departure and during tours. Our team at the office or the tour manager escorting your group will make any arrangement to suit your group interest; or they can answer to any questions or address any urgent situation that may affect the safety of your group. Our emergency line is always answered, 24 hours a day
Before departure, we always send group leaders and chaperones tours documents equipped emergency information as well as guidelines for safe travel practices
All these actions depend on our policies and efforts; however, personal preparedness is crucial to make it work. As a prepared traveller, we count on you to respect, comply with local safety and health guidelines, to check requirements and regulations at your destinations, and to stay up to date with health conditions and measures.
We always recommend to:
✓

Bring and wear masks throughout the trip

✓

Bring and use hand sanitizer

✓

Keep distance, be aware of your own social bubble

✓

Communicate with your students; always ask about their health conditions. Be aware of any changes.

✓

Inform and enforce safety rules, practices and guidelines before and during the trip.

✓

Keep updated on government advisories and regulations

✓

Read our terms & conditions, safety and health documents before departure
Educational World Tours team thanks you for your attention and hopes to see you soon, enjoying all the opportunities that educational travel has to offer.