2023 Cantando Festival Information
About the Festivals: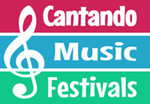 ALL FESTIVALS FEATURE Instrumental workshops, Mass Choir rehearsals and concerts, 50 minute workshops following performances and much more.
Past guest artists have featured world class artists like Jim Walker (principal flute, LA Phil), Eddie Daniels – renowned jazz and classical clarinetist, Fred Hemke – classical saxophonist, Allan Vizzutti – trumpet soloist par excellence, Jeff Nelson – hornist with the Canadian Brass, Grant MacEwan faculty big band – a pro ensemble, jazz ensembles, orchestras and wind ensembles from most western Canadian Universities, choirs from around the world including Rajaton and the University of Pretoria Youth Choir. These performances are the highlight of our festivals and the reason students leave feeling excited and enthused about music. We'll keep you updated with all the amazing talent we bring to Cantando festivals as we get schedules finalized.
NEWS: Cantando is back and have secured the following dates for 2023! The festival is in the process of hiring some great adjudicators, clinicians and guest artists and will put them on their website (www.cantando.org) throughout the summer and fall.
ALL PARTICIPANTS CAN EASILY REGISTER ON THEIR WEBSITE
—
www.cantando.org
You can choose your performance and workshop times to better fit your schedule and it makes schools with many ensembles a breeze to register.